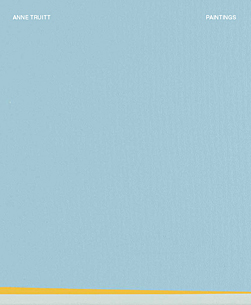 Anne Truitt Paintings
Essay by Michael Schreyach
This is the first book on the paintings of Anne Truitt. Best known for her sculptures, Truitt also spent more than three decades producing innovative large-format paintings on canvas. Featured here are 16 abstract works made between 1972 and 1993, all generously illustrated, including numerous full-page detail photographs.
Michael Schreyach's essay provides an incisive formal analysis of the works' compositional elements, particularly the tension between two and three dimensionality that characterizes not only Truitt's paintings but also her sculptures. It was through these pictorial and material qualities that she manifested the metaphysical meaning of her art — or, as she described it, "the sharp delight of watching what has been inside one's own most intimate self materialize into visibility."
Clothbound, 8.5 x 10.25 in.
76 pages
36 color images, 1 b/w